For CABSYS Rail NG (New Generation)
Optional cover securing clamp sizes 1 and 2 (packaging unit = 4 x cover securing clips)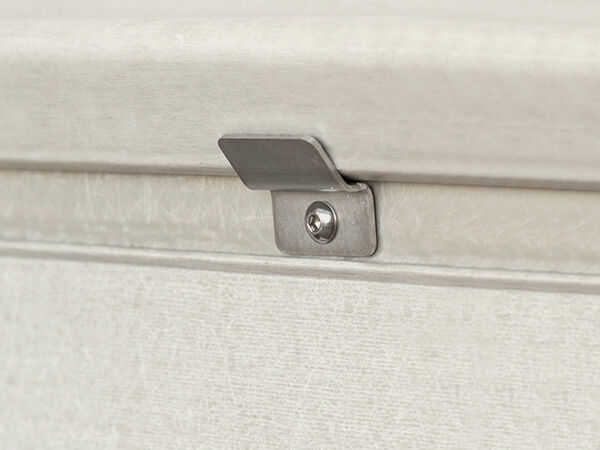 CABSYS Rail NG is installed in normal operation without further securing of the cover system.
In individual cases, however, it may be necessary to retrofit a cover securing clip:
In areas with very short cover sections that are less than 1,000 mm in length. The strength of the lid latch may decrease in strong winds, broken snow or other loads. As a precaution, the covers in these sections must be secured with at least 2 cover securing clips per side (4 pieces/cover). Maximum distance between brackets: 1,500 mm.
Installation: Drill a Ø 9.5 mm hole about 10 mm below the edge of the lid in the outer wall of the trough. Tip: Hold the clamp beforehand and mark the drilling location using the recess in the clamp. Make sure that the inner wall is not damaged! Insert the RIV-TI Flex blind nut M5 x 13 EPDM into the hole. Secure the cover securing clip with the screw and washer. Tightening torque 2 Nm.
0,00 EUR
inkl. Mehrwertsteuer
zzgl. Versandkosten
| | |
| --- | --- |
| Item number | 000621 |
| Length in mm | 30 |
| Width in mm | 28 |
| Height in mm | 1.5 |
| Weight in kg | 0.01 |
| Material | A2 stainless steel |
| Scope of supply | Retrofit kit 4 pieces cover securing clip complete with screws and flexible blind nut (packaging unit) |
Request